Collections:
Kerajaan Langit (Sky Kingdom)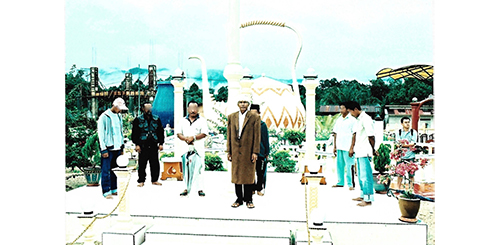 From the collection of Danny Lim. Danny Lim is a photographer based in KL who formerly worked for the magazine Off The Edge.
Kerajaan Langit (Sky Kingdom) was a religious movement led by the charismatic leader Arrifin Mohammad, also as known as Ayah Pin. In the 1980s, a commune was established on a site in Besut, Terengganu, where monuments taking the form of giant objects were built in a vision of postmodern pastiche. The Sky Kingdom was demolished by the Malaysian government in 2005 amidst accusations of apostasy. In 2004, Danny Lim was assigned by Off The Edge to report on Sky Kingdom and Ayah Pin. He and two journalists were guided by Rosli, the drummer of the hard rock band DeF-Gab-C, who is pictured in some of Danny's photographs.