Archive Item:
Malaysians For Black Lives Matter Post
Description
During the start of the pandemic, I felt so helpless and useless as I was so far removed from the on the ground work of doing food & aid distribution. Amidst the pandemic, the Black Lives Matter movement was also taking the whole world by storm, even reaching Malaysia. These infographics came out of me because I had all this pent up frustation and anger regarding the double standards that I was seeing come out of Malaysians who were in support of Black lives but at the same time were completely ignorant of our own social issues and movements happening at home such as the #MigranJugaManusia movement. It represents 2020 for me as this post going viral was the start of me reclaiming my voice and learning how to use it using social media to empower and move people to take action.
The material was created at The Interwebs of Social Media Platforms (Instagram, Facebook, Twitter)
Accession No.
2021.02.004
Subject(s)
Black Lives Matter
Migran Juga Manusia
Part of Collection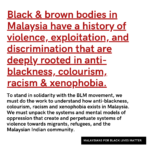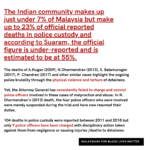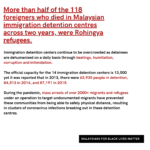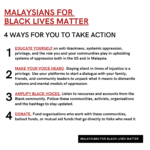 Relevant Resources