Collections:
Royal Selangor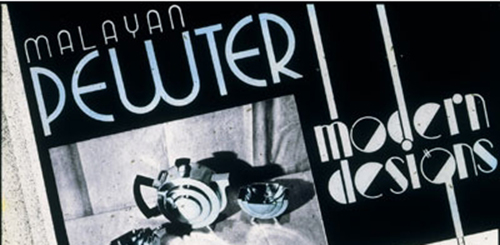 Browse this collection of early graphic design materials of Royal Selangor, that shows a glimpse of the company's design history.
Today, the brand has grown from a cottage industry to a global brand. This fourth-generation family business has employees spanning the globe, from Kuala Lumpur and Singapore to Shanghai, London, Toronto, Melbourne, Hong Kong and Tokyo.
With over 250 skilled craftspeople and a 40-strong in-house design team, Royal Selangor have expanded the uses of pewter, exploring its many possibilities from children's gifts and wine accessories to personal accessories such as cufflinks and flashdrives. Since 1885, our designers and craftsmen have expressed their love and understanding of the material by continuously pushing the envelope in pewter design while staying true to our heritage of craftsmanship. Our collection is further augmented by special designs by international designers such as Erik Magnussen from Denmark and Freeman Lau from Hong Kong.
Royal Selangor has grown from a small family-run business to one of the best known pewter brands. It is little wonder that it has played host to several prominent figures, which include former US President Bill Clinton, lifestyle guru Martha Stewart, actor Mel Gibson and Managing Director of International Monetary Fund Christine Lagarde.
Text from https://my.royalselangor.com/